The specialists in developing and programming
control and measurement systems.
Alliancepartner
Fa. Ender-Klimatechnik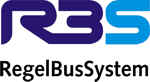 Alliancepartner
Fa. National Instruments

Member of the LNO (LON User Organization).
LON is an organization for the use of the LONWORKS data
transmission system.
Tel.: 0043-1-505 42 50, email: info@mpt.at, Address, Copyright: (c)2000 MP-TEAM, Webmaster: Ingrid Mayer
All Microprocessor-Team products and scripts are trademarks or registered trademarks of Microprocessor-Team. Other brand and product names are trademarks or registered trademarks of their respective holders.
The Microprocessor-Team company was founded in January 1997 by Dr Erich Schäfer, Ingrid Mayer and MS Jürgen Morscher. We have been developing and programming microcontroller systems, digital signal processors and FPGA devices for more than 10 years.
Our key strength lies in PC-supported measurement and automation systems, which play an increasingly important role in quality assurance and monitoring.
You can see a selection of the prototypes and products we have developed at our website at www.mpt.at.
The average length of our projects is 8 man months.
Thanks to collaborative projects in research and teaching, we also have excellent contacts with university establishments in Vienna and its surrounding area.
We have been applying original ideas with efficiency and creativity during 10 years of practical experience to devise expert solutions in the electronics and software environment of instrumentation and control engineering.
We enjoy the challenge of using the latest tools to complete the tasks we undertake - and this is a key factor in our work.
With our excellent know-how in hardware and software development using microcontrollers, FPGAs (Field Programmable Arrays) and personal computers, we are in an ideal position to provide economic solutions to your projects in the field of data acquisition, analysis (e.g. quality control) and data distribution.
Dr Erich Schäfer, Partner and Development Engineer, email
Jürgen Morscher, Partner and Development Engineer, email
Ingrid Mayer, Partner and Finance Manager, email
Ernst Schäfer, Process Engineer, email
Manfred Hoffmann, Sales, email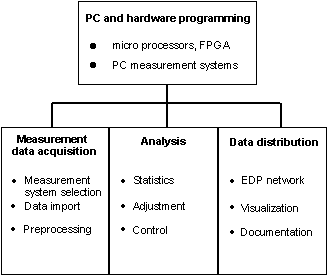 Procedure:
The first step in measurement data acquisition is the selection of the instrumentation system.The question of whether to assemble existing components or to develop a new system is decided according to the nature of the problem and your special needs and quality requirements.
The measurement data records are pre-processed for analysis.
Programming algorithms containing either statistical and/or techical control functions are used for the analysis element.
Data distribution is the final task in an instrumentation and control system. The results of the analysis are transferred as required to the EDP network or other interfaces, or saved in memory or other data storage media of choice. A visualization and documentation system (in any foreign language) is usually provided for easy user operation.
Services

Qualifications

Project management

Technical and commercial responsibility for:

· Planning
· Coordination
· Adaptation
· Monitoring

Simulation methodology -
software design

Simulations with LabView, Mathcad, Pspice, SimulR, Ecanse, C and neural networks.

Hardware design
(embedded controllers) –
software implementation

Design of microprocessor applications, programming of embedded controllers (8051, 80C537, 80C166, MPC860, ADSP21xx) and FPGAs (field programmable gate arrays)

Special programming knowledge – connectivity, visualization, evaluation and statistics

CAD skills in EAGLE, Pspice and LabView (fifth generation programming languages, "G") used for simulations, data acquisition, visualization and integrated environment for supplementary programming modules in C, Fortran, Matlab, etc.

Computer and operating systems

Comprehensive knowledge of PC technology and operating systems

Prototype development

Services and development in the following application areas:



We give you the innovative edge in
· Quality assurance
· SPC (Statistical Process Control)
· Interface management(Profibus, Ethernet, Interbus,...)
· System-independent instrumentation and control technology
· Multi-lingual user and operating interface
Our services to you
· Project management
· Measurement technology for quality assurance
· SPC (Statistical Process Control)
· Interface management (Ethernet, Profibus,...)
· Solutions for technical control tasks
· Simulation of complex processes
· Programming of microprocessors
· Programming in "G" (National corporation)
· Programming in "C"
· Display of measurements on the Internet
· Multi-lingual user and operating interface
· Hardware design (Embedded Controllers, FPGAs)
Products for automotive applications
Motor Simulation System (MSS)

Simulation of all electronic signals from a combustion engine. Test device for engine test benches.

Motor Measurement System (MMS)

Evaluation of all electronic signals:
injection duration, injection time, rate of rotation and ignition point.
PC connection via serial interface (RS232).


Camshaft Control (CC)

Monitoring and control of the camshaft using the ADCSE system. Evaluation via LCD display and PC connection.


Adaptive Development and Control System for Engine test benches(ADCSE)

Electronic test equipment for measurement and automatic control technology.

Adaptive CAN Bus Analysis (ACBA)

High-security transfer of data in
Automobiles.

Fuel injector, Signal and Impulse Control device (FSIC)

Signalling device with variable pulse width and frequency for the control of fuel injection nozzles using different fuel mixtures.
Electronic collision detection

Application of non-contacting distance sensors in robotic systems. Sensor signals are analyzed in order to detect obstacles and avoid collisions.

Software for fully-automatic dosing and iteration procedures

Development of special software in the field of electronic dosing and iteration methods. Control of the processes as well as evaluation and visualization of measured data (test reports)

Control electronics for silk screen printing facilities

Individually adapted control electronics for silk screen printing facilities.

Computerized measurement technology

Real-time data acquisition with multifunctional input and output cards. Hardware and software for image recognition, oscillation analysis, signal and data analysis, data processing and preparation for statistical purposes.

Computerized industrial automation

Industrial automation software,
industrial networks with Ethernet, PROFI-BUS and CAN interfaces.
Disributed I/O field bus solutions.
We have developed a new lighting system designed for use in showcases and displays. With a small box, no larger than a video recorder, moving light shows can be created, placing pron the "limelight". The lighting choreography is sensor activated. This sensor even reacts through wood or glass to passing onlookers. The configuration of the lighting scenes depends on their lighting choreography score or can be purely random. Whatever the case, your display comes to life.
You will definitely stand out from your static competitors with this dynamic display system.
OPENING DISPLAY for the AUGARTEN company
Phase-angle control of four effects spotlights. The variation in brightness over time can be personally configured for each light source. In addition, the lighting choreographers are started by motion sensors. The serial interface to the PC is used for displaying on a screen information relating to the object (work of art, product) currently in the spotlight.
Collaborative projects

Partner companies

Alliance partnership. We are the representatives in the Vienna area for programming projects in the "G" language for LabVIEW, the PC measurement system.

Member of the LNO (LON User Organisation).

LNO is an organization set up to promote and spread the use of the LONWORKS data transmission system.
Leica AG
Minitek KG
Kunert AG
Felzmann & Partner
Franz Feigl KG
HTS GmbH
Lampert GmbH
Technische Universität Wien
-Institut für Verbrennungskraftmaschinen
-Institut für Leistungselektronik
-Institut für flexible Automation
Universität für Bodenkultur
The Gentics company
WireCard AG
Theyer & Hardtmuth




optimAS
Kiepe Electric GmbH
Microprocessor-Team
DI Morscher Microprocessor-Team KEG, Montfortstrasse 34
A-6830 Rankweil, Austria, Europe
DI Morscher Microprocessor-Team KEG, Suedtirolerplatz 9/18
A-1040 Vienna, Austria, Europe
Tel: 0043 - 1 - 505 42 50